Personal Tax Services
YOU CAN MISS DEDUCTIONS WITH DIY TAX SOFTWARE
If you prepare your own tax returns, you are probably a do-it-yourself-er who likes to fix or build things to save money. One of the many reasons people go through the headache of filing their own taxes is a false belief that they are saving money.
LOSE BIG MONEY FILING YOUR OWN TAXES
Did you know that in a recent tax study by financial expert, Dave Ramsey, the average do-it-yourself tax preparer lost between $387 and $841 when compared to the same returns prepared by tax professionals?
Why? The average taxpayer doesn't know every deduction available to them, even with the help of online tax software. Tax filing software is updated once a year to handle the major tax changes and can unintentionally omit small, specific deductions. If you have multi-state returns, forget it. The errors are too many to mention.
Tax filing software may actually be costing you more. Just because you found a place to put a number in the tax software, doesn't mean it was the most advantageous place to put it from a tax perspective–leaving hundreds of dollars in Uncle Sam's pocket.
At QualiTax, we're highly trained tax professionals. Our staff undergoes rigorous annual training to keep us up to date with the new Federal and State laws. At QualiTax, you get the most current tax advice possible.
Preparing taxes yourself can cost you hundreds of dollars, not only in the taxes themselves, but in penalties and interest if you make mistakes or miss the deadline.
---
HOW MUCH DOES IT REALLY COST YOU TO PREPARE YOUR TAX RETURN?
Do you think you're saving money by preparing your tax returns yourself? Think again. If you make $35 per hour and it takes you 12 hours of your valuable time to prepare and file your returns, then it just cost you $420. That's 12 hours you could have been spending with the family, fixing something or just relaxing. Then add the cost of the software at approximately $100. That's $520.
Don't relax just yet. If you happened to make a mistake, that could cost you another $387 (the lowest average cost of taxpayer errors). Now you're looking at a total of $907, or more, to do it yourself. And, if you don't file on time, then you can add interest and penalties on top of the other costs.
THE U.S. TAX CODE HAS 74,608 PAGES. WHICH ONES APPLY TO YOU?
The U.S. Tax Code contains a whopping 74,608 pages. Qualitax understands that every tax return is unique and what worked last year may no longer be valid this year. Our tax professionals stay up to date with the changes in tax law each year and know where to find every deduction for you.
In order to stay on top of your taxes and save the most money, you need to think about taxes every day, not just on April 15th. QualiTax offers individual tax planning to protect your money and assets by thinking ahead. Be proactive and plan for your future now.
---
QUALITAX CLIENTS PAY THE LEAST AMOUNT OF TAXES
Valerie Bennett McLaughlin, EA started QualiTax in 1980. We have accurately prepared tax returns for thousands of businesses and individuals. Not only are our rates reasonable and competitive, but we know what to look for when it comes to saving you money by finding every possible deduction to which you are entitled.
Your records will always be up to date so that you pay the lowest rates possible.
PROVIDING PERSONAL TAX SERVICES
At Qualitax we specialize in three main areas of personal income taxes:
Tax Preparation
Tax Problem Resolution
IRS Representation
Tax Audits
If you use QualiTax for your tax preparation, you will avoid needing us for the other two.
WISE FINANCIAL ADVICE
Besides tax preparation and IRS representation, we have the experience to provide you with other financial assistance including: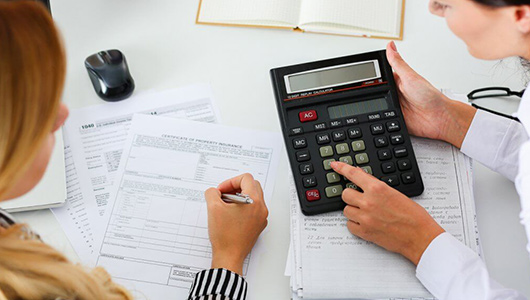 Elder Care Accounting Services
Personal Financial Statements
Budgets, both personal and corporate
Financial Advice regarding divorce or bankruptcy
Tax Problem Resolution
Representation before the IRS and all 50 states
Troubled Debt Restructuring
Preparation of Back Tax Returns
We're flexible, personable, and respect your time. You can communicate with us face to face, by phone, or electronically, whichever is most convenient for you. Your information is highly confidential. We adhere to a code of professional conduct that always puts our clients ahead of personal gain.
---
WE RESOLVE IRS TAX PROBLEMS
Whether you are our current client or not, QualiTax can represent you and resolve tax issues you have with the IRS. Call us immediately if you've received an IRS audit notice from them. Once you receive it, the clock starts ticking, and the penalties accrue DAILY so don't wait. We can represent you and deal with the IRS in person on your behalf.
"The advantage to hiring a pro was undeniable: I wouldn't have to spend time and anguish doing our taxes myself. The $400 fee seemed steep to someone used to paying for software, but handing over all our tax stuff was a relief. In our case, (accountant) raised the size of our refund by a few hundred bucks compared with the software. Even though he charged far more than the tax programs, we'd still come out ahead."
– CBS MONEY WATCH- Turbotax vs. Human: Best Way To Save On Your Tax Return
---

DON'T WORRY ABOUT SWITCHING ACCOUNTANTS
If you're considering changing accountants, you're probably concerned about how much hassle you have to go through, how much it's going to cost, and how uncomfortable it will be.
​
We have the ability to gather all the information from your last tax return or financial statement. In the event that we have to contact your former accountant, all we need is your signature. It's fast, discrete, and inexpensive.
SAVE MONEY, TIME, AND HASSLE WITH YOUR TAXES THIS YEAR
Call the experts at QualiTax and set up a consultation with one of our tax professionals to see how we can reduce your taxes. Have peace of mind knowing your tax return is accurate. Ask for our free tax preparation checklist to help you organize your tax files once and for all!